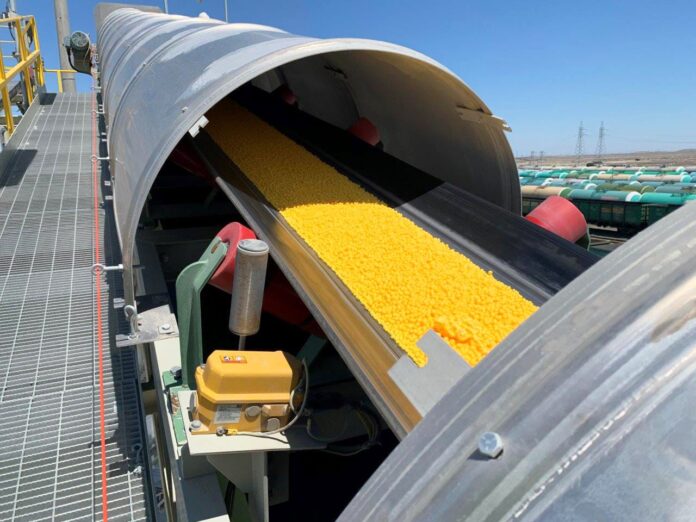 Tengizchevroil (TCO) has commissioned a new sulfur granulation plant at Tengiz which will enable TCO to process almost all liquid sulfur produced at the facility, which will improve environmental safety and mitigate operational risks. The new sulfur production plant, which has a monthly production capacity of 40,000 tonnes of sulfur will enable TCO to maintainsulfur production rates when other units are not operational.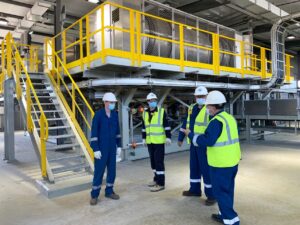 "As part of TCO's sulfur management plan and our commitment to developing the capabilities of local companies, our team has implemented a project that has expanded sulfur processing capacity," said Kevin Lyon, Tengizchevroil LLP General Director.
The development of local companies is one of TCO's main strategies and it is positive that the project has been fully implemented by a Kazakhstani company and all employees working on the new facility are local personnel.
The new plant has created more than 60 jobs for local employees. And despite the challenges of the pandemic, TCO in cooperation with Caspian Group Construction LLP successfully completedinstallation and commissioning of the project in less than 2 years.
"The plant is equipped with the GXM3 unit, which is portable and easy to assemble. The manufacturer has applied the best available technologies and resources around the world and delivered them to Kazakhstan," said Galiaskar Itishev, Granulated Sulfur Plant Manager.

In addition to the Kazakhstani market, TCO exports granulated sulfur to markets including Africa, Europe, China, and other.
###
About Tengizchevroil LLP
Tengizchevroil LLP is a Kazakhstani partnership that develops, produces and markets crude oil, LPG, dry gas and sulfur. TCO implements the best available technologies and conducts operations in accordance with world-class safety and environmental standards, providing ever-cleaner energy for a more sustainable Kazakhstan In April 1993, Tengizchevroil was formed between the Republic of Kazakhstan and Chevron Corporation. Current partners are: Chevron, 50 percent; KazMunaiGas NC JSC, 20 percent; ExxonMobil Kazakhstan Ventures Inc., 25 percent and LukArco, 5 percent.
The Future Growth Project-Wellhead Pressure Management Project (FGP-WPMP) are two integrated projects implemented by TCO simultaneously. FGP-WPMP implementation will allow an increase in Tengiz crude oil production capacity. While FGP implementation will expand production, WPMP will keep the existing Tengiz plants at full capacity by lowering wellhead pressure and boosting the pressure of the six existing processing trains.